After hundreds of discussions with property managers, building owners and colleagues, it became clear that most groups involved with managing commercial properties were looking for new ways to effectively service and repair their roofs. Hence the foundation of Wolf & Wolf Roof Services, a skilled group of experts whose primary focus is to save you time and money by extending the service life of your roof, the first line of defence for your entire commercial property. ​

VANCOUVER | BURNABY | SURREY | LANGLEY | RICHMOND | TRI-CITIES | WHISTLER | SQUAMISH
VANCOUVER
BURNABY
SURREY
LANGLEY
RICHMOND
TRI-CITIES
WHISTLER
SQUAMISH
​​Wolf & Wolf Roof Services Planned Maintenance Programs are uniquely designed to take the worry out of roof asset management, while protecting and prolonging the life of your roof. Each package is customized to your roof and is designed with four key elements; inspection, cleaning, maintenance and reporting.
INSPECT
Trained technicians examine exterior roof system, while noting conditions of parapets and roof penetrations and documenting conditions to monitor in the future.
REPAIR
All debris is removed from roof surface, gutters, interior drains and through-wall scuppers to prevent pooling water that may cause premature roof aging and damage.
MAINTAIN
As needed, replace deteriorated sealant on metal flashings, top-off pitch pans and re-seal suspect flashing at equipment curbs/perimeters. Secure drain clamps and rain collars.
REPORT
Provided annual summation of work performed and assessment of roof conditions, including updated roof drawings and photographs.
EXTEND THE LIFE OF YOUR ROOF & PROTECT YOUR ASSET
MAINTENANCE
MAINTENANCE
A customized, scheduled plan for each building to clean entire roof, replace deteriorated sealants on metal flashings, top of pitch pans and reseal suspect flashings at equipment curbs/perimeters, secure drain clamps and accessories and more.
QUICK CLEANING & SERVICING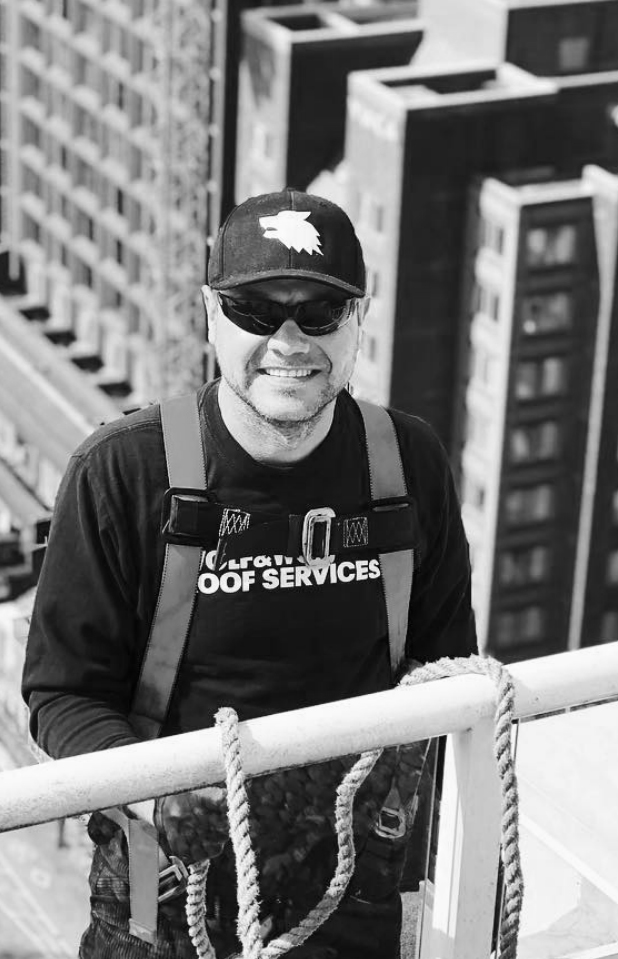 REPORTING
REPORTING
Our comprehensive Roof Condition Reports give you the data and options you need to make smart decisions about your roof maintenance and repairs.

STATUS OVERVIEW
The first element of Wolf & Wolf Roof Condition Reports is a clear understanding of the condition of your existing roof.
Each roof is unique and has many components that must be in proper working order to protect the assets underneath it. We not only look at the visible components, but assess all underlayers for possible risks and deficiencies that you may not see from the outside.

HIGH-DEF IMAGES & NOTES
As you know, technology today allows us to take high-resolution photos to validate all elements outlined in Stage 1.
Our goal is to provide a comprehensive set of photos that show the good, bad and possible ugly elements of your roof so that you can visually see what areas require maintenance, repair or even re-roofing.

SERVICE RECOMMENDATIONS
The WOLF & WOLF team has more than 50 years of combined industry experience including structural engineers, commercial roofers and project managers with strong working knowledge of all types of roofs.
We work with our clients to understand their goals, budgets and needs of the building, and provide a variety of options that will maintain the service life of your roof.